Patient Partners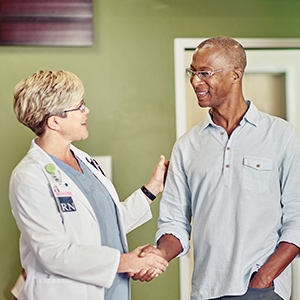 What You Need to Know:
Anyone who joins the CoPPiR network becomes eligible to join future research teams as a Patient Partner.  By providing a bit of information, we will try to connect you with a research team depending on your health interests. CoPPiR is for Patient Partners who want to provide input on research study design and grant submission, develop patient enrollment materials and methods, provide feedback on interpretation of the results, and/or help communicate results to patients, organizations, and research communities. Your potential commitment could range from quarterly or monthly meetings to being more closely involved with the team on an ongoing basis. Joining any team is entirely voluntary and you will be provided with all of the project information before you join any research team.

How it Works:
Research teams who come to CoPPiR tell us about their research topic or study and we work to identify and follow up with any potential Patient Partners who fit those needs. Your name or other information will never be shared directly with research teams. CoPPiR will tell YOU about a research opportunity and then it's up to you whether or not you want to talk to the research team to find out more. CoPPiR requires that research teams compensate all Patient Partners' time once the Partner(s) has joined the research team.

CoPPiR benefits patients AND researchers:
Adding the patient to the research team acknowledges what we all know: patients' experiences with their health care, from diagnosis to treatment to cures, make them experts in health care. Patients have lived it, and they know better than anyone else what worked for them, what didn't, and what was missing. Patients who join CoPPiR are valued members of research teams who can make the difference between a study that translates into improved care for patients, and a study that collects dust on a shelf. Researchers who want patients on their research teams need a way to identify patients who have lived experience relevant to their research interests.  CoPPiR's goal is to have a statewide patient partner population that mirrors the demographics and disease burden of adults in Colorado. Importantly, CoPPiR is open to researchers from all over the state. 

Ready to Sign Up?
Once you've joined the network, you will be eligible to be a patient partner on the research team of a future research project. In order to continue, we ask that you agree to participate, provide us with some basic information about yourself, and let us know what health conditions you have experience with or are interested in.
Once you have read about CoPPiR and are ready to Participate, Click here to Sign Up and complete your Health Interests survey.

What Happens Next?
Once you complete the Sign Up and Health Interests survey, we will email you to confirm that you are fully signed up. We will be in touch every few months with our newsletter and will email you as research studies come up that may match your interests. If you have any questions please feel free to contact us.